Registrations will open on 8 Mar 2021 (Mon) 09:00. Priority will be given to residents of Cheung Chau, Chi Ma Wan, Mui Wo and Peng Chau.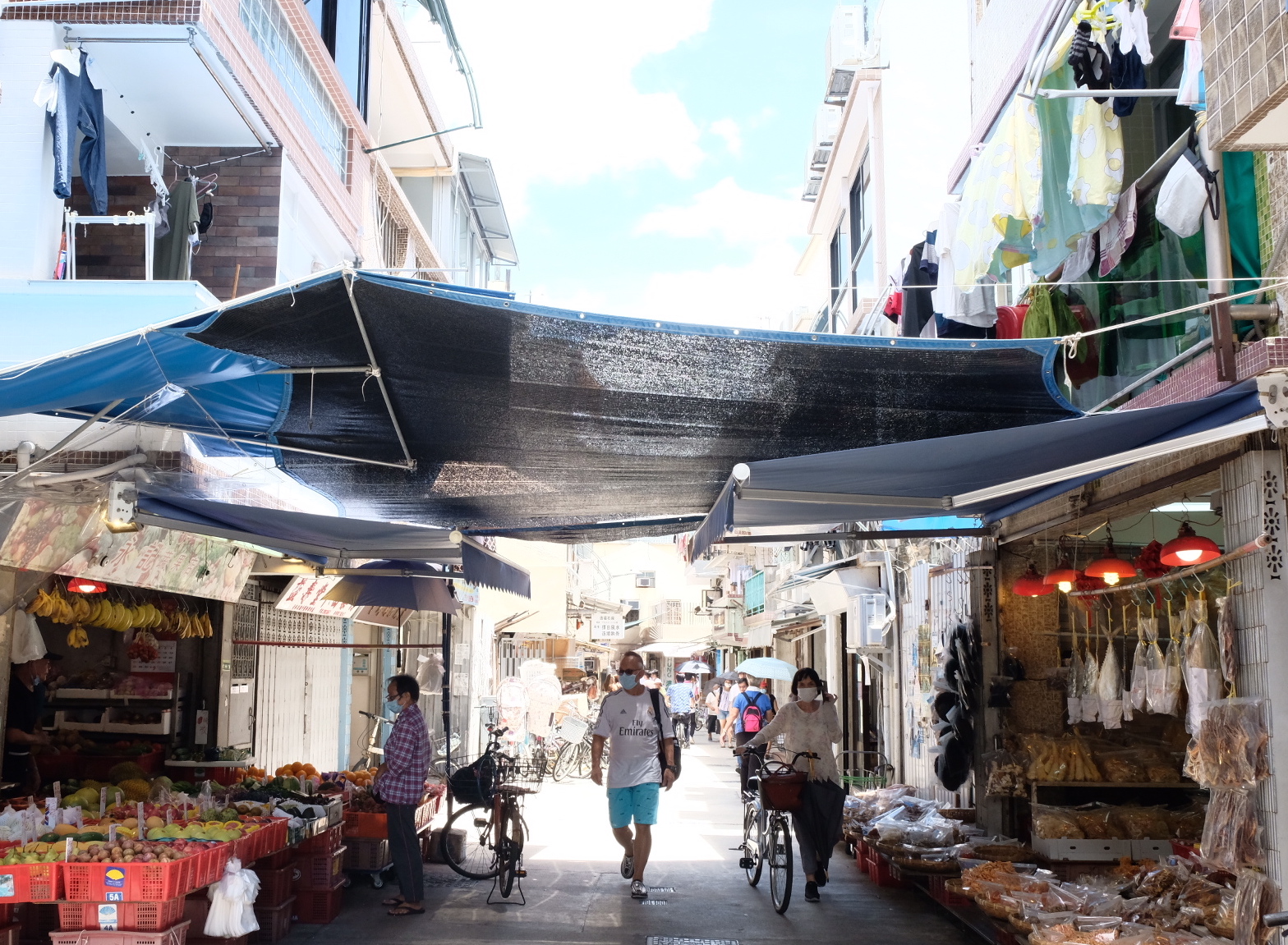 Installation
Encounter Cheung Chau: Dak Haan Yum Cha

Hong Kong Public Space Initiative
In Cheung Chau, an island with looping roads and alleys, you will eventually encounter friends and peers when you are wandering for long enough. Wherever people are encountered, ad-hoc, mobile public space/realm is temporarily formed, particularly under the comfort of authentic nylon shade. Islanders' everyday life as social process then forms organic, free-flowing public space.
Inspired by the Cantonese greeting "Dak Haan Yum Cha" when people encounter, literally meaning "let's grab a tea when you are free", mobile tea pavilion realises the common saying into spontaneous place of interaction anywhere on the island. The mobile pavilion is modelled after Cheung Chau's authentic way of transit – bicycles and local wisdom of nylon shade for homes and restaurants, resembling islanders' fluid public space usage and catalysing people's spontaneous public life.
—
Cheung Chau
Cancelled
Cantonese
Donations welcome!
Workshop
Encounter Cheung Chau: Sketch to Encounter

Hong Kong Public Space Initiative
Casually walk into a local shop in Cheung Chau, discover the story behind the owner(s) and explore various possibilities of lifestyle. Capturing all sorts of happenings and events through collecting materials from local shops and creating participants' own Masterpieces. During the downswifting process, participants slow down, co-create and record their experiences in Cheung Chau.
—
Cheung Chau
Cancelled
Cantonese
Donations welcome!
Register
Game
Goods as Always
Carmen Kwok, Lillian Chung, Sunny Cheng, Monica Chong, Ellena Wong & Haylie Shum
The history of inter-island trade between Cheung Chau, Mui Wo, Chi Ma Wan and Peng Chau has been long-lasting. As time passes, the inter-island ferry not only carries daily necessities, but also the unique everyday life and culture of these islanders. Curious about life on the islands? Let's hop around the islands and complete the missions by tracing islanders' footprints. Along the way, you will discover their community stories as well!
—
Cheung Chau, Mui Wo & Peng Chau
Cancelled
Cantonese & English
Open house
Island art: Discovering the artist studio and showroom of chaussette b.
chaussette b.
Step into one of Cheung Chau's typical 50s house for an interactive immersion in chaussette b. studio. She will let you know more about her paintography process and her current mix media work using materials such as bamboo, steam basket, fishnet… mainly sourced locally in Cheung Chau.
Around 40 artworks of chaussette b. will be exhibited during the Festival. Come discover the stories behind each of them!
—
Cheung Chau

2021.03.26-03.28 (Fri-Sun)
11:00-12:00; 13:00-14:00; 14:00-15:00; 15:00-16:00; 16:00-17:00
Cantonese, English & French
Donations welcome!
Register