MW4
Dialogue Market

Liv Tsim & Flora Yip
"Dialogue Market" is a story exchange platform that builds upon the past flourishing street market and barter culture of Mui Wo's Chung Hau Street. Transformed into sellers, organising artists interact with communities to explore the value of the past rural market and bring up conversation towards a localized sustainable economy. In this market, stories collected by artists and those shared by participants are respectively used as goods and currency, allowing visitors to share and listen to others stories through story trading. Come meet us and engage in a discussion with Mui Wo's neighbourhood to weigh the value of the barter economy and its future as a self-sustained model.
—
Mui Wo (Nin Fung, 17 Chung Hau Street)
2020.12.04-12.06 (Fri-Sun) 10:00-16:00
(2020.12.06 Artists will be present for dialogue session)

Cantonese & English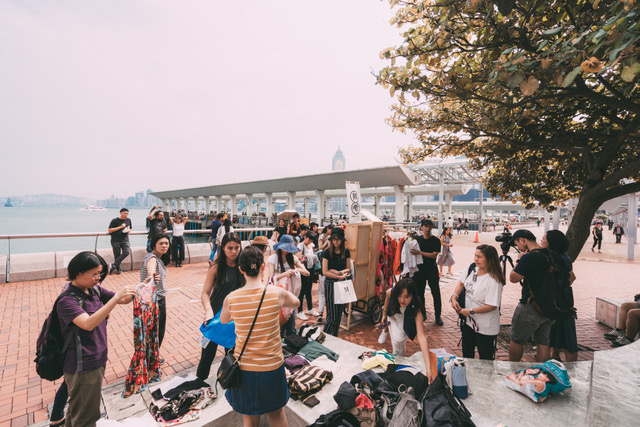 PC7
JupYeah @ Inter-island

Jup Yeah
To foster an insular life harmonious with the environment, community and sustainability are the keys. JupYeah celebrates the sustainable lifestyle with sharing and reducing waste in one action, swapping.
JupYeah's flag-ship pop-up swap welcomes participants to share unwanted but useful goods, and take from the pool anything they want.
—
Peng Chau
(Piazza outside the pier)
2020.12.05-12.06 (Sat-Sun) 12:00- 18:00
Cantonese
CC6
Community Sharing Weekend

dimDIM Cheung Chau
Second hand exchange has become increasingly popular on the island, and we can easily name a few local Facebook Pages catering for this purpose. Besides your idle items, there are many more 'intangible' things worthwhile sharing in the community. This event hopes to create a platform, as well as a stage, for everybody to experience, appreciate and treasure the homeliness of Cheung Chau.
—
Cheung Chau
(7up store, School road)
2020.12.06 (Sun) 12:00-17:00
Cantonese & English

Remarks:
Bring your own bags for your found treasures!
The event is organised in a quiet neighborhood, please respect the local community.